Mexico is no stranger to earthquakes, sitting on several intersecting tectonic plates, putting the region as one of the top in the world, in terms of seismic activity. There have been over 30 earthquakes bigger than magnitude-7 recorded within 300 miles of Mexico city's region since 1900.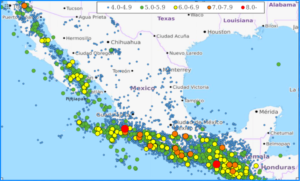 Despite the presence of earthquake early warning systems, hundreds of people have died as there has been little time to prepare for the imminent tremors.
The National Seismological Service (SSN) registers and records in real time, all seismic activity using seismographers, each costing in excess of 20,000 USD each.
The high cost of the seismographers inhibits the number of sensors deployed in the region and ultimately reduces the coverage that sensors can monitor and alert, which in turn creates one of the biggest challenges in detecting seismic activity. Currently there are only 400 sensors available in the Mexican region.
The Sigfox Foundation has got involved in a new seismic alert initiative "Seconds To Save Lives" with the goal to develop a low cost IoT solution, to enhance detection, distribute geolocalized alerts and generate prediction models to forecast seismic events.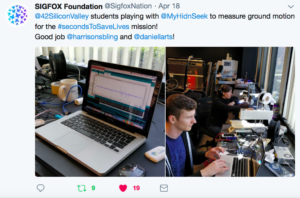 HidnSeek is very proud to announce its partnership with the Foundation in delivering an open source Low Power Sensor to locate and detect seismic activity.
HidnSeek's solution will enable talented coders from 42 SILICON VALLEY, an innovating engineering school based in the San Francisco bay area, and a team of data scientists, based in California, to develop algorithms to build earthquake prediction models.
Time and time again, HidnSeek shows its ability to unlock new monitoring applications, enabling analytic material for a smarter and better world. HidnSeek is delighted to be part of this progressive initiative!
About The Sigfox Foundation
The Sigfox Foundation wants to give a voice to vulnerable populations, using the Sigfox network and connected low powered sensors. With the conviction that the "Internet of Things" is detecting weak signals, we deploy in field solutions to prevent from danger, and involve the global Sigfox Ecosystem to protect lives.
About HidnSeek
HidnSeek are dedicated to designing and building innovative solutions to enable remote tracking and asset management, empowering enterprises to improve their operational efficiency. HidnSeek ultra-low power devices are leveraging the rapid and disruptive deployment of the Internet of Things (IoT) networks.
check out https://www.hidnseek.fr for more information or contact us directly by mail at link on the bottom page