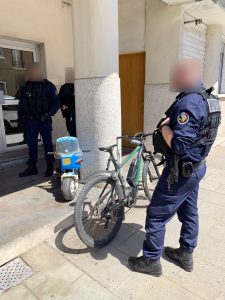 Bike theft is a growing problem in cities and urban areas. Despite security measures taken to protect these vehicles, it is often difficult to recover them once they have been stolen. However, an innovative technological solution can help to quickly locate a stolen bike. This is what happened recently to a cyclist in Grenoble, thanks to a hidnSeek GPS tracker.
The story begins when the cyclist leaves the restaurant during his lunch break and finds that his electric mountain bike, which he had left attached to a street pole, has been stolen. He is obviously upset and immediately calls the police to report the theft.
He informs the reception officer that his bike is equipped with a tracker and that it locates the bike on a street 15 minutes away from his position on foot. The officer takes the call very seriously, as they had already received a call from a passerby informing them that an individual was cutting bike locks with an angle grinder on the street.
After sharing the GPS tracker location information, the police began searching for the stolen bike. With the help of precise location data provided by the GPS tracker, the electric mountain bike was found in less than 30 minutes, in a bike garage in the courtyard of a residence at the indicated address.
The owner of the electric mountain bike was delighted to find that the hidnSeek GPS tracker had worked perfectly. Thanks to this innovative solution, he was able to recover his electric mountain bike in record time with the help of the police.
In conclusion, the hidnSeek digiTrack Edge GPS tracker is an effective technological solution for quickly locating a stolen bike. It allows owners to locate their bike and easily share this information with law enforcement for a speedy intervention. If you own a bike, consider equipping it with a GPS tracker to protect your investment and avoid losses.
To top it all off, the owner of the stolen bike is none other than the co-founder of the company that makes the GPS trackers, HidnSeek SAS