Valuable Asset Tracking made easy using HidnSeek and Sigfox
As the rollout of LPWANs accelerates, the prospect of low cost global connectivity with roaming presents huge appeal to both business and consumers alike. Sigfox has been leading the way and steadily adding new countries while densifying coverage in countries where Sigfox is already established.
With the Hidnseek sales team on a one week trip around Europe, the perfect opportunity arose to assess the Sigfox infrastructure in Europe, in an area ranging from the west of Ireland to Dresden in eastern Germany and Lyon in the south of France. So armed with a very small Hidnseek ST1-A tracker, only charged to a level of 36%, the device was placed in an item of luggage for the duration of the trip. The results, on the map below, speak for themselves and demonstrates pan European Sigfox roaming is here already in a simple and low cost package.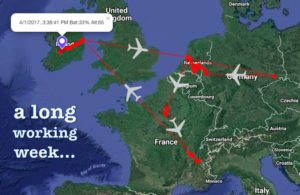 To comply with European Aviation Safety Regulations all Hidnseek devices have an automatic flight mode and will not operate when on commercial aircraft. The above map illustrates this in the various connections from Dublin, Amsterdam, Dusseldorf, Dresden, Paris and Lyon.
Hidnseek designs and manufactures a range of Tracking products and would be delighted to address your logistic or tracking challenges.
About HidnSeek
HidnSeek are dedicated to designing and building innovative solutions to enable remote tracking and asset management, empowering enterprises to improve their operational efficiency. HidnSeek ultra-low power devices are leveraging the rapid and disruptive deployment of the Internet of Things (IoT) networks such as Sigfox.
HidnSeek's solutions are designed to maximize geolocalization and track assets on the move while being very easy to install. HidnSeek offer business customers unrivaled flexibility in geolocalization services including open API for third party integration. HidnSeek's services gives you an insight into your asset utilization, route history, geo-fencing and alert notification to help you improve operational efficiency.