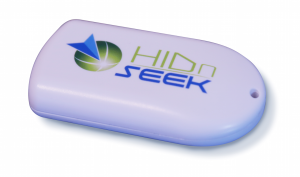 HidnSeek announced today the first customer deployment of its revolutionary GPS Tracking solution, following its successful Kickstarter campaign during 2015
Having been deployed and tested for several months across multiple European countries, the HidnSeek tracker is now shipping to international customers. The tiny tracker is a highly-affordable device with customizable open apps which allow users to geolocate objects in real-time, to define parameters to track movement and boundaries, or to set alerts. Its applications include tracking or locating lost equipment, detecting possible accidents and motionless states, tracking drone paths or landing sites, or securing property by detecting unauthorized movement.
The tracker uses the rapidly expanding Internet-of-Things network by SIGFOX, and is certified SIGFOX Ready™.
"We are proud to be the first GPS locator that is SIGFOX Ready™ and shipping, with full app support for smartphones and tablets," said Xavier Torres-Tuset, CEO of HidnSeek. "The combination of low-cost, high accuracy and widespread international coverage has pushed us to ramp up fast to meet customer demand, both from end-users and increasingly from business customers who want high-volume customizable tracking solutions and services."
"Previous trackers required either expensive GSM connections, or to be within range of Bluetooth devices, which was impractical. We've done away with all that to make widespread affordable tracking a reality," said Stéphane Driussi, CTO of HidnSeek. "The immediate market response is overwhelming."
The accompanying HidnSeek apps are available in the Google Play and Apple App Stores, and the company offers full web-tracking services that can be tailored for business customers' websites. Robust and rugged, featuring long battery life and widespread coverage, the HidnSeek tracker offers customizable alerts, geo-fencing, motion detection, and more features which will soon be unlocked in the apps and website.
Feedback from app users is very positive, highlighting HidnSeek's for being ease of use without inserting a SIM card, its low connectivity cost, its open source and the company's responsiveness to API questions. "The general feedback is that this is an all-round great ready-to-use solution for knowing where things are," says Torres-Tuset.
The HidnSeek tracker solution is available for worldwide delivery from the company's website.
The SIGFOX network, enabling rapid deployment of IoT devices, may be viewed here.
About HidnSeek
HidnSeek, a connected asset management solution provider, is the first to deliver accurate affordable GPS tracking solutions to ensure valuable items never get lost. Based in Grenoble, France, HidnSeek was founded by Stéphane Driussi and Xavier Torres-Tuset. Thomas Landspurg has also joined the team, deploying HidnSeek smartphone applications. The company goal is to deliver more than just a tracker, by bundling revolutionary new functionalities together with ultra low-cost connectivity in an affordable and accurate GPS locator, using scalable UNB (Ultra Narrow Band) networks such as that of SIGFOX, which offer a disruptive solution for the rapid and affordable deployment of the Internet of Things (IoT).
See more on PR Newswire …