February 06, 2017 written by Author:
Andrejs for GPS Navigation Systems
Cheap and ultra-low power consumption GPS tracking solution from HidnSeek by using of Internet of Things (IOT) network powered by Sigfox and LoRaWAN.
For those who do not want to read further in a couple of words. It is another, independent from mobile networks and satellite networks, real-time GPS tracking solution using ultra-low power and small fees.
What network this tracker is using and how it transmits GPS signal to the customer?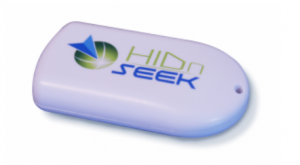 HidnSeek GPS tracker uses the Internet of Things network by Sigfox and recently LoRaWAN™ Low Power Wide Area Network (LPWAN) as well.
Here are unknown names for many readers so what is what.
"The Internet of things (stylised Internet of Things or IoT) is the internetworking of physical devices, vehicles (also referred to as "connected devices" and "smart devices"), buildings, and other items—embedded with electronics, software, sensors, actuators, and network connectivity that enable these objects to collect and exchange data."
By my understanding, the term "Internet of Things" (IoT) already is in our everyday life.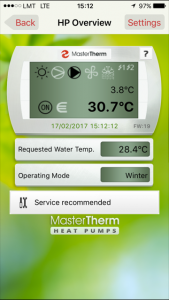 So, for example, my house is heated by the ground source heat pump. Green energy, cheaper than many alternatives and convenient to manage it. Here IoT comes in my everyday life. The main MasterTherm unit is connected to the internet and company servers. All I need to do is login in the app and set temperature in my rooms or hot water directly from my iPhone or any computer, even from Down Under when I visited my cousins on the opposite side of the globe.
"Sigfox (styled SIGFOX) is a French company that builds wireless networks to connect low-energy objects such as electricity meters, smartwatches, and washing machines, which need to be continuously on and emitting small amounts of data. Its technology is aimed at the Internet of Things (IoT)."
"The company mission is to design and build innovative solutions to enable remote tracking and asset management, empowering enterprise to improve their operational efficiency."
Imagine that Sigfox GPS tracker will be able to communicate with IoT for up to 10 years extended battery life! Yes, TEN years on two AA batteries. What a huge opportunities! An industrial wood pallet could become a connected pallet with GPS geolocalisation and temperature sensor simply by embedding a small device in the frame, or sea TEU containers could be tracked by owners locally.
Manager, Analog and MEMS Group, STMicroelectronics announces that-
"Now, in partnership with Sigfox, we are opening a new era in ISM radios for the IoT to extend battery life from months to more than 10 years while preserving the robustness and reliability of the connection and reducing maintenance costs for remote and difficult-to-reach sensors."
Well, back to the topic about HidnSeek GPS tracker what is it and how it works?
HidnSeek ST1-A is an autonomous rechargeable standalone GPS tracker. With no SIM card or installation required, the ST1-A works seamlessly with our free mobile or web app and is specifically designed with tracking and security in mind.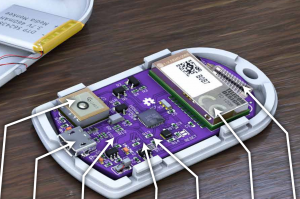 Multiple users can monitor a single device and customize their own alerts and geo-fences, and the open APIs and open firmware allows developers to craft their own apps and integrate additional sensors. This tiny little lightweight device, gives you the perfect combination of size, weight, operational hours and functionality."
Main Characteristics
Weight:             48 g
Dimensions:   85 x 48 x 15 mm
SERVICES: Geolocalization, route history, geo-fencing, open API, open firmware, alerts notifications
NETWORKS: SIGFOX Ready, LoRaWAN
POWER: LiPo Capacity 500mah (CE/FCC/IEC62133)
ENCLOSURE: IP40 (not waterproof) COLOR White
OPERATING TEMPERATURE: -20°C to +60°C
Basic Service Pack: One year service fee + SIGFOX connectivity -19,90€
Pros and cons of HidenSeek GPS tracker.
Pros.
Low-cost subscription fees.
Very low power consumption, battery up to one month.
It is not yet fakes found on the market, so there is no risk to buy one.
Plug and Pay – No wires and no setting up
Cons
Low coverage but growing rapidly. Today, the network is present in 29 countries and on track to cover 60 by 2018 – covering a population of 451 million people. Forecasts that by 2020 North America will have the world's third-largest installed base of IoT units (7.5 billion)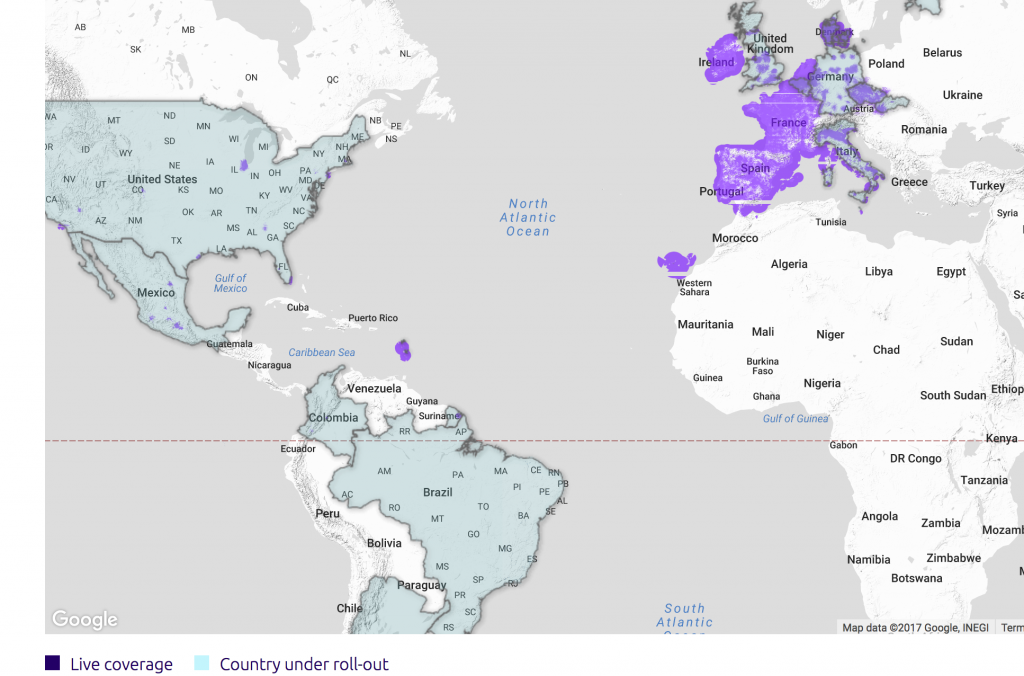 My conclusions.
The HidnSeek GPS tracker and its app is the perfect way to find and track your things from any place in the world. Regardless of blank spots on the global map IoT network is growing and future is promising.
When you have HidnSeek GPS tracker, then the only thing you need is ID's share with friends and family to be found in the case of emergency or just say hello when you are far away and not reachable by cell phone.
Sigfox offering some Internet of Things toolkits on Amazon store. Take a look.
For those who live in are yet not covered by the networks for HidenSeek GPS tracker I recommend a traditional cell phone network trackers or global Iridium powered DeLorme InReach GPS tracking solution.